Stinging Nettle (Urtica Dioica)
Stinging nettle is a hardy perennial native to Europe, Asia, northern Africa and western North America.
It spreads by both seed and rhizomes, which means it's fairly invasive given the opportunity. It prefers moist rich soil in partial shade, but if there's enough moisture, it will grow in full sun as well.
Larger animals tend to avoid it due to its painful sting, so it generally doesn't get grazed to the ground. It does act as a host plant to the larval stage of a large number of moths and butterflies. It's the exclusive host plant to the Peacock Butterfly caterpillar, which is found throughout Europe.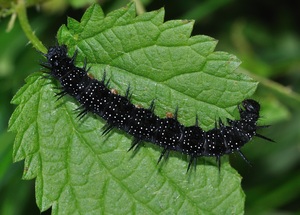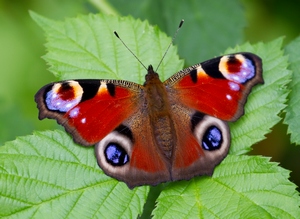 It was probably not often grown deliberately in the Medieval garden, it being easier to forage for than to get rid of. That doesn't mean that it doesn't have place in the modern cultivated garden. It is an attractive plant which will grow large enough for the eye to interpret as a small shrub, if you let it. I recommend not relying on it for that position though, as you will definitely want to cut this plant back before it seeds itself.
Treat it like you would a mint, otherwise. Put it in a box with a bottom or in a raised bed to control the root spread and every couple of years, in the early fall after the first frost and the last cutting back, go in with a shovel and thin the plants down so the roots aren't strangling.
You can replant the roots elsewhere, share them with friends or throw them out. I do not recommend putting them in the compost without first making sure that the roots are completely dead unless you have mastered the art of making a very hot compost pile (if you have, I envy you. I've never quite gotten the hang of it). Any nettle tops that you've cut back should go right in the compost! They're full of good minerals that will make your garden soil very happy.
Do put it in an out-of-the-way spot where unsuspecting visitors won't accidentally trip over it. Or try the opposite – put it front and center with a small wattle fence and a sign clearly marking it as a feast for the eyes only. This video will give you an idea of why you don't want your guests running through the nettle bed.  A nod of gratitude to the young man with the willingness to make sacrifices in the name of science and knowledge!
If there does happen to be an unfortunate incident, DON'T rub on the area! That will only make things worse. Try these steps to avoid as much discomfort as you can.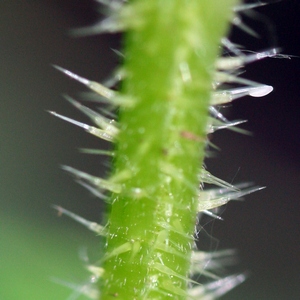 If you decide to throw all caution to the wind and proceed with planting it, you can:
Grow it in your medicinal herb garden and harvest your own healthy tea. Here's a plan for a nice one.  Be sure to place your nettles where they won't be brushed against!
This same design would work nicely as a butterfly garden. Give it pride of place in a raised bed in the center bed and surround it by nectar plants and you'll be supporting the entire life cycle of a number of species of butterflies and moths. Substitute a bench for one of the beds and spend your sunny afternoon in the garden with them.
Update:  While researching for Wednesday's medicinal post, I found this suggestion for another gardening option for our Noble Interest.  Enjoy!
As amazing as this plant is, never underestimate its enthusiasm. Keep up with it or it will get away from you. Just in case you need to consider eradicating an over-abundant patch, here are a few things you can try. 
If you're itching to get started (sorry about that), my favorite seed companies carry the seeds. That would be Fedco  and Baker Creek.
 If you'd like to try with root cuttings, Local Harvest can help you. I've never bought anything from them. If you decide to try them, please let me know if you're satisfied with the experience. I'm always looking for good places to get unusual plants.
Did I forget anything? Have you ever run up against this fascinating plant? Did you ever need to get rid of it? What did you try and what worked? Share with me in the comments below! Thanks for stopping by.
Tomorrow is Trencher Trove Tuesday and this herb has been in the kitchen before there was one.