Growing Elderberries
A deciduous shrub native to both Europe and North America with an enthusiastic growing habit and a rangy appearance, elderberry has graced our gardens and tables since ancient days. Most varieties are hardy to Zone 4, with a few being hardy to Zone 3.
Flowers appear generally in late June and fruit ripens over a month long period from mid-August to mid-September, depending on variety. It's important to keep an eye on your crop and harvest as soon as the clusters ripen. Remember the birds are watching "their" crop, too! I tend to mark out some of the clusters and leave them for the wildlings that share my place.
There are also red -berried varieties, generally referred to as S. racemosa, which are not edible.
All varieties contain cyanidin glycoside in varying concentrations. S. nigra berries and flowers are the only part of any of the species that are considered safe for eating and they should be cooked before doing so.
During medieval times, it was a better choice to forage for the plant in the wild and save the protected garden space for less easily found herbs and fruits. That didn't stop it from being grown in the occasional monastery or large kitchen garden.
Today, it's seldom planted within the confines of a traditional garden as it takes either too much room or too much attention to keep it within bounds of the available space. Don't let that stop you from growing it!
If you are willing to do the yearly pruning to keep it small enough, it's a lovely focal point for any large-ish round bed. It will cast enough to shade to allow for those understory herbs that appreciate a bit of protection. Here's nice list of shade-loving herbs that might work for you. 
If you've got a corner in your yard, try using it as the anchor plant for two beds that edge the space. Or use it as a foundation planting along the east side of your house.
If you're familiar with Permaculture and want to try creating a guild on your property, here's a suggestion:
This lovely graphic, along with an explanation of why these plants were used and a number of other excellent garden designs can be found in this free ebook from MidwestPermaculture.com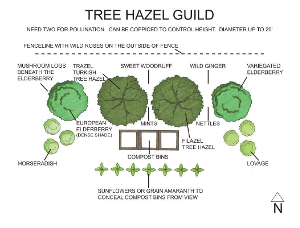 If you've got plenty of room and a mind to try it, The Center for Agroforestry provides instruction on how to grow elderberry as a cash crop. 
If you'd like to have this beautiful plant in your garden, you can purchase it at my favorite nursery, Fedco Seeds or you can try Stark's Bros.  Wherever you choose to get it from, if you want a good crop of berries be sure to get two plants of differing varieties. Elderberry is only partially self-fruitful and needs a pollinator to get those large crops they're capable of.
Did I forget anything? I'm sure there are other ways to find space for our Noble Interest. How have you placed it in your garden? Tell me about it in the comments below. Thank you for stopping by!
Tomorrow's Trencher Trove promises to be sweet.