The Ragged Edge of the Garden
The Dianthus genus is made up of over three hundred species. The wild form of the species can be found in the Mediterranean and Middle East. Most sources say it was first documented by Theophrastus around 300 BCE but at least one source reports that this statement has been proven false. The first documentable instance of cultivation occurs around 1450 CE.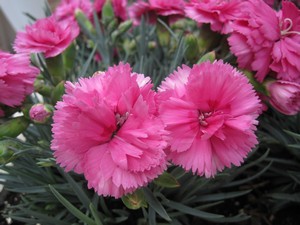 Dianthus Caryophyllus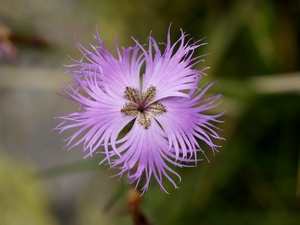 Dianthus Hyssopifolius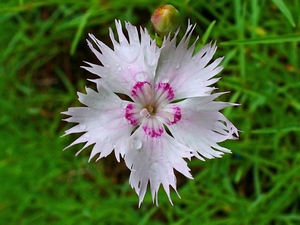 Dianthus Monspessulanus
Most of them are perennials and most are hardy from Zone 4 to Zone 8. They prefer a neutral to slightly alkaline, well-drained soil and require at least six hours of sun a day. Make sure the spot you put it is reasonably fertile. You can top-dress it with compost in the spring and fall but it doesn't enjoy being mulched.  For further information, you can check out this video.
This article has some excellent information on the plant, although I must say that the wait time to get on the page can be a bit tiresome.
Propagation is not difficult. Here is an excellent piece explaining the ways to do so.
This video clearly shows how to propagate it by cuttings.
This genus contains such a variety of color and growth habit that a place can be found for it in any garden. Its unusual grey-green foliage stands out among other greens. The newer varieties bloom all summer long and although the older varieties bloom heavily only once in June (they bloom sporadically the rest of the summer), their fragrance more than makes up for the short bloom time.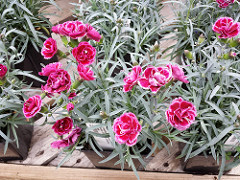 Our Noble Interest of a friendly temperament. It fits right in when grouped in a mixed border or bed. Here is a list of companion plants that enjoy similar growing conditions.
Create a fragrance garden. Make a small circular bed, three feet or so in diameter and put an upright support in the center of it. Maybe a tuteur, a post, or a garden crook. Plant a Moonflower (Ipomoea alba) to grow up the support and underplant the bed with one of the fragrant heirloom Dianthus species. Moonflower blooms at night and between the two plants your garden will fill the air with a sweet scent constantly.
Here's a good video on how to make a tuteur to get you started.
I have come across the suggestion that rabbits particularly love Dianthus. I haven't had a problem but then I don't have a large planting of them, either. You might want to be aware of the possibility and take precautions if you share your space with a lot of bunnies.
And just for fun, here's the original Latin name for our Noble Interest.
Dianthus floribus solitarus, corollis lacero-partitis, squamis calycinis ovatis acutis
Thank you, Carl Linnaeus for the simplification. By the way, the book looks fascinating. It's now on my wish-list. If you get to it before I do, please let me know how you liked it.
Did I forget anything? Which are your favorite Dianthus? The heirlooms with their fragrance or the newer cultivars with their exuberant bloom? Tell me in the comments below. Thanks for stopping by!
Tomorrow I'll see if we can find a place in the kitchen for our Noble Interest.