The Acid Test
Vaccinium spp. are shrubs. Depending on the species they can grow anywhere from 1' to 8' tall. All of them require full sun and a well-drained soil with a P.H. of 4.5 to 5.5.
Here's some good basic growing information from the Minnesota Extension Office and here's an article on how to prepare a bed and which amendments are best to get the PH to the optimum level for our Noble Interest.
Blueberries are natural in the Edible Landscape. 
I found this PDF on the subject from Backyard Abundance. It's an informative handout. I'm not familiar with the organization, but I'll go see what they're all about now that I've found them. I have to say that one of the best things about writing this blog has been finding all these wonderful new ideas and resources!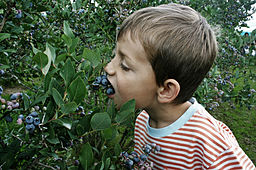 This site gives a really excellent description of one person's thought process for the development of a blueberry guild. I normally refuse to link to sites that have video ads that autoplay but the info contained in this one is very good. The choice of whether to look or not is yours, just be aware that it has these.
Blueberries also grow well in pots. 
If you have only a small yard or patio, this might be the way to go. One thing I must mention- the article suggests that you bury the pot and mulch it well with straw and leaves in the fall. Please be aware that this very well may be the only invitation that a rodent needs to make a winter home and a meal out of your shrub.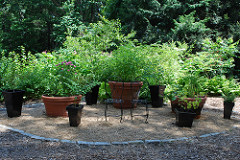 You can get both high-bush and low-bush blueberry shrubs from Fedco Seeds or a more limited selection of high-bush varieties from Baker Creek. 
There are very few places to obtain bilberry for the garden. I found this company, J.L. Hudson, that sells the seeds in the U.S., and this article  from the U.K. lists Poyntzfield's Nursery in Scotland. This is the first I've heard of Hudson's. The reviews are good and they are a public access seedbank – a cause that I am always happy to support. I will definitely be taking a look at them. I'd love to hear about your experience with them in the comments below.
Here's how to prune your blueberry bush for the maximum health and yield.
This video not only shows the difference between the highbush blueberry and the lowbush blueberry, it also gives identification on the huckleberry (Gaylussacia spp.), a cousin of our Noble Interest which is often substituted for it in the U.S.
Did I forget anything? Do you have blueberries in your garden? How have you integrated them with the plants that prefer less acid conditions? If you've used them as a hedge (which I'm considering doing), have you had any deer problems with them? Let me know in the comments below. Thanks for stopping by!
Save your fork for tomorrow's Trencher Trove- there's pie!