A Softer Shade of Purple
Blueberries are and their relatives are very popular in the kitchen. This week my problem wasn't finding enough good recipes for our Noble Interest, it was narrowing it down to a few. I gave up. The first mention of the bilberry in Europe was in the sixteenth century and of the blueberry in America in the late eighteenth. The closest thing I found to an early recipe was a reconstructed one at this site.
It's an interesting one and definitely worth exploring. The recipe we want is about halfway down the page at this link.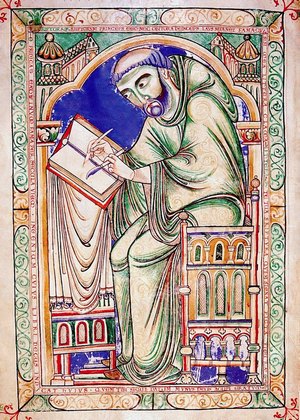 This young Gentle gives a good account of how to make berry ink, although it makes me want to remind everyone that berry juice stains clothing.
I found this Good Gentle's site utterly fascinating. If you read it through, he mentions that he uses bilberry as a pigment for the illumination. I have always known that berry pigment was not lightfast but he points out that inside a book it will last indefinitely.
Paper isn't the only thing that benefits from a bit of color. People also like fabric to be pretty and colorful. Natural dyes tend not to be too intense and they generally fade fairly quickly. The way our ancestors dealt with that was to re-dye the cloth periodically. Fortunately, it's not all that difficult or costly when you're using natural dyes gathered locally.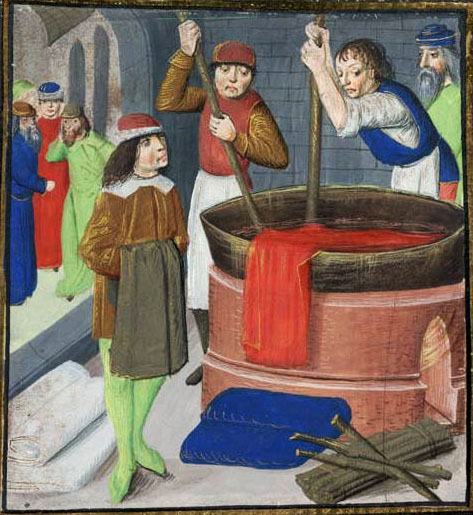 One source I read said that after they go gathering, they separate the good berries from the overripe or damaged ones, then eat the pretty ones and dye with the others. What a great idea!
Here's a good tutorial on how to dye a scarf with natural dyes.
And this is a good general discussion about dyeing with berries.
Here's a wonderful list of plants that can be used for natural dyes.
There is also the time-honored association of berrying with romance. Perhaps there is something to Rev. Friend's assertion of negative associations of blueberries.
Did I forget anything? Do you know of another way that blueberries have been used by people or have influenced society in some fashion? I'd love to hear about it in the comments below. Thanks for stopping by!