A Feast To Cry For
Onion recipes abound. They are used in every type of recipe imaginable and in combination with every foodstuff imaginable.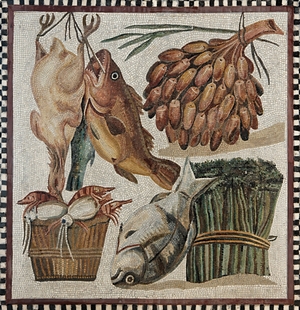 From Apicius:
FRIED [1] PUMPKIN, SEASONED WITH PEPPER, LOVAGE, CUMIN, ORIGANY, ONION, WINE BROTH AND OIL: STEW THE PUMPKIN [in this] IN A BAKING DISH, TIE THE LIQUID WITH ROUX [mash] AND SERVE IN THE DISH.

COOK THE LETTUCE LEAVES WITH ONION IN SODA WATER, SQUEEZE [the water out] CHOP VERY FINE; IN THE MORTAR CRUSH PEPPER, LOVAGE, CELERY SEED, DRY MINT, ONION; ADD STOCK, OIL AND WINE.[106] TO PREVENT MASHED
Apicius recommended sauce for a great number of dishes. This one is representative:
[FOR A SAUCE WITH FRIED BEEF OR VEAL TAKE] [2] PEPPER, LOVAGE, CELERY SEED, CUMIN, ORIGANY, DRY ONION, RAISINS, HONEY, VINEGAR, WINE, BROTH, OIL, AND REDUCED MUST.
From The Housekeeper's and Mother's Manual by Mrs. Thomas L. Rosser, published in 1895-
Curried Eggs.—Slice two onions and fry in butter, add a tablespoonful of curry powder, and one pint of good stock or broth ; stew until the onions are quite tender, add a cup of cream, thickened with arrow root, simmer a few minutes, then add ten hard boiled eggs, cut in slices ; heat them well, but do not boil.
And also from The Housekeeper and Mother's Manual, we have Haddock Stewed with Claret.—
Cut the fish in two ; season, with pepper, salt, and a little mace and cloves, and lay in a pan.
Take four or five onions, shred them fine ; add some sprigs of parsley and thyme ; cover the fish with claret and water, one quart of claret to one pint of water, one-half pound of butter and a little flour. When half done turn it. Let it cook on a slow fire. The Virginia claret made at Charlottesville, Va., is an excellent wine to
use with this fish.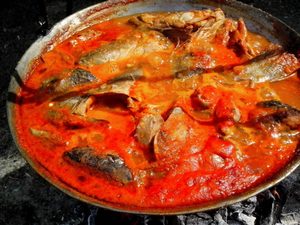 Caramelized onions are good all by themselves or as a topping for nearly anything. There is a bit of a technique to it, though. This site has good written instructions and a fun "time-lapse" video of the onions as they cook.
Roasted onions are even easier to make but just as tasty. This recipe is basic and can be personalized with your own signature herb mix.
The sweet flavor of onions lends itself to jams and preserves. Here's one for a jam that I want to try and one for a marmalade that sounds delicious. The long cooking time for this one practically guarantees an amazingly full-bodied flavor.
And then there's my favorite guilty pleasure, the blooming onion. Here's a recipe for a baked one I don't know if it'll be the same without the grease, but if it comes even close, then I'm a fan!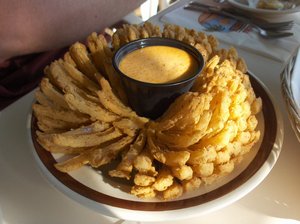 The National Onion Association has more onion recipes than you can possibly imagine. I'm still browsing the site and finding recipes that I'll be trying. Grab a cuppa and enjoy looking through this one!
For those of us who grow the Egyptian walking onions and are old enough to remember creamed peas and onions (fondly or not), here's a recipe for creamed onions to which you may certainly add peas if you'd like.
This site offers five ideas on how to use the green onions you have left after you use the one that your original recipe called for.
Or you could try the time-honored "Scout Method" - wrap a dozen or so green onions in tin foil with some butter, salt, and pepper and put them on the grill or on the cooler coals at the edge of your campfire. It'll take about a half hour or so, depending on how hot your fire is.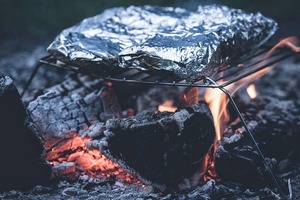 I'm sure I left your favorite recipe out. Let me know what it is in the comments below. Please remember to like and share. Thank you for stopping by!
Tomorrow I'll peek into the leechkit and see whether I have an onion in there.