Tools, Techniques and Processes: What's It About
Welcome to the new Friday topic! I have wanted to be able share some of the pre-Industrial technologies and traditional practices that people relied on to make their survival possible and their lives perhaps a bit more comfortable.
These are the things that people did in order to make use of the bounty that the earth gave them and the ways they employed to make that bounty increase. They don't fit in on any of the other posts because they generally aren't specific to any one plant but are used to change plants from raw material into useful items.
I make no claims as to their efficiency or, for that matter, their efficacy but I will point out that our ancestors survived at least long enough for you to be reading this so they may have had some idea of what they were doing. Some of the things they did, we still do today. Some of them we look at and scratch our heads. Either way, they're fascinating.
I'll point out once again that Aelfrida wanders not only through the world but also through time. While the main focus is Medieval Europe, any plant, process or pre-Industrial technology is fair game.
Your feedback is most welcome. If there's a topic you'd like me cover, let me know in the comments and I'll do my best to find what information I can for you. For now, I'll start this off in the place a medieval gardener would start- the laying out of beds.
Medieval gardens were generally surrounded by a fence and the beds inside were made square or rectangular with wide paths between them.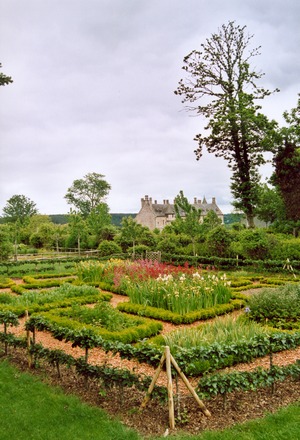 The beds themselves were fenced to protect the plants inside from animals and unobservant passersby who might trample the delicate plants they contained. Often these beds were raised.
This layout is familiar to most of us. Many modern gardens follow the same plan. There may be more efficient ways to use garden space but few are as simple to plan and build.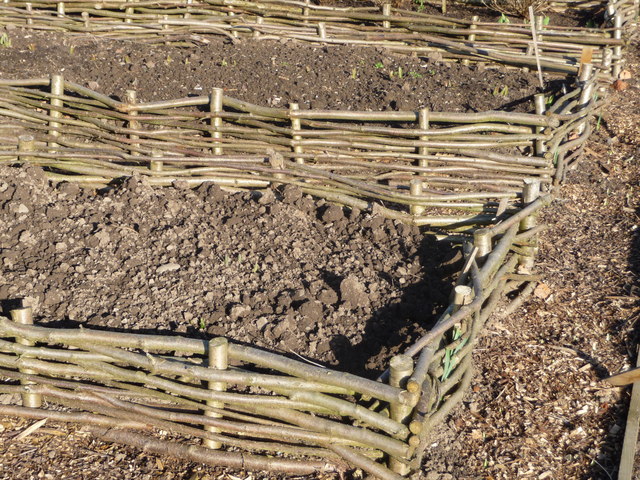 The rectangular bed offers a number of advantages. It is easy to plan the garden using rectangular beds.
It's also easy to expand your garden, should you decide to do so.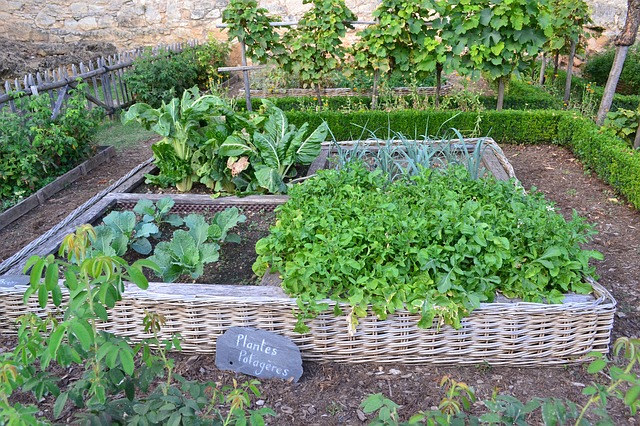 Rectangular beds make it easy to reach your plants without stepping on them. The length of a rectangular bed is up to you and your needs but the width is always dictated by the gardeners' reach. Usually, a bed four feet wide allows the gardener to reach every plant in the bed from the path without stepping into the bed and compacting the soil.
Raising the rectangular bed adds more advantages. The raised bed warms up earlier in the year than a flat bed. It's easier to reach and it provides another bit of protection against wild animals.
It was common to see wattle fencing as both a fence around the garden itself and as edging around the beds. It was easy to make and materials were readily available to most people. This is an excellent tutorial video on making raised wattle beds.
You can make a garden of as many beds as you desire. Just be sure to make the paths between your beds wide enough to allow a person to easily pass a wheelbarrow. You can put your beds in rigid rows all lined up in a single direction or you can put some at angles to others. Whatever pleases you.
This will give you a start on your garden planning. There's a lot more that a medieval gardener would have taken into consideration as he was laying out his garden. I'll explore some of those other things in a later post. Please remember to like and share this post and enjoy your weekend. Thanks for stopping by!