Wes Thu Hál
Hello! The weather has not improved, there being another two feet of snow fallen but we are gaining three minutes of sunshine a day now and there is a hint of hope for spring outside. The blue jays are making that lovely "belling" sound they make to attract a sweetheart and the black-capped chickadees have begun to call "fee-bee" and pair off. The yearly bets on when the first woodcock will show up are being taken.
And the amaryllis has bloomed. It's both understated and spectacular, as most white blooms are. I am pleased by it.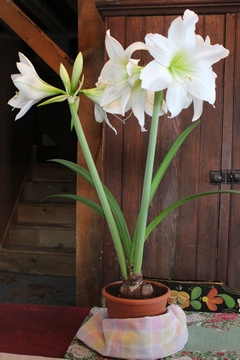 This week is an herb and flower week and I have chosen a plant that is a bit of both. Let's see what can be discovered about this week's Noble Interest.